New Top 10
Here is the list of the new all-time greatest top 10 games I have played.
1::: Counter Strike (all variations)
Counter Strike has been around for many years, but the fun you get from playing the game never stops -- since the game is mostly played with other humans! The big fan community keeps on churning out new maps for its multiplayer, making Counter Strike a relatively fresh game every time I play it. The action is also very immersive. Once played, never forgotten.
I played it on: PC
2::: Call of Duty 2
Call of Duty 2 is only behind Counter Strike in the ranking because Counter Strike's multiplayer is better. However, when it comes to single-player content, Call of Duty 2 beats every other game in the market hands down. Not only does the game has a cinematic feel to it that makes you feel as if you are the soldier himself, the game is also very memorable. Memories of playing the game will still be embedded in your mind long after you have finished the game. To add to the fun, the developers has also added some humor into it. Do not miss this game! It is a must-try for everyone!
I played it on: PC
3::: Mario Kart DS
I never feel bored or tired playing Mario Kart DS. In fact, I have been playing it since I bought it! The wacky balloon battle just keeps me playing over and over again. Mario and his pals have also made an attempt to make the game more interesting to play by making many funny and cute voices in gameplay. If all the single-player content is not enough for you, head over to the multiplayer. In my opinion, yes, this is game that you must get. This is also the game that prompted me to buy my DS.
I played it on: Nintendo DS
4::: Halo
Halo must have been the greatest Xbox shooter of all times, even better than its sequel, Halo 2. Extremely addictive gameplay bundled with intriguing storyline, wrapped up with the most memorable in-game music I have ever heard. The previous sentence sums up what Halo is, but you won't feel it until you play it! So, go get it if you have not played it! This is not a normal shooter; it is an extraordinary shooter that you will remember forever.
I played it on: Xbox
5::: Mario and Luigi:Partners In Time
Another super great game for the DS. Featuring Mario and his pals again, you can look forward to some humor. Lasting about 23 hours, this is a great buy. The enemies are challenging and the storyline just pushes you forward into playing the game. Definetely one of the greatest portables RPGs! This is the game to get after Mario Kart DS -- if you're a DS owner, of course!
I played it on: Nintendo DS
6::: Doom 3
What I like about Doom 3 is that it has gotten everything right. The storyline, the enemies, the weapons. The storyline is solid and clear. The enemies are great in variety and there is a truckload of weapons to equip yourself with. The somewhat scary gameplay environment and jumping-out-of-nowhere enemies further increases Doom 3's rankings. Expect to see a resonable amount of blood.
I played it on: Xbox
7::: Project:Snowblind
This game is relatively unheard of by most gamers, but that does not mean that this game is bad. Instead, I really like this game, especially the many innovative weapons. The ice pick that you can use to hack into security cameras, machines, turrets adds a new aspect to the gameplay. If you need some allies, release the spider bots. They can help you in your fight or perhaps, distract the enemies. This game is very creative. Never have I seen such innovative weapons in any other shooter.
I played it on: Xbox
8::: Need for Speed Most Wanted
This game is extremely difficult to play and somewhat repetitive, but I still like this game for its police chases, which look like it came out of holloywood. The environments look realistic enough and this game is all you need to satisfy your sudden thirst for speed. There are many unlockables too. The car crashes are a sight to behold. Trust me, this is better than Burnout Revenge or Full Auto. The black edition comes with an extra DVD containing many video clips.
I played it on: Xbox
9::: Total Annihilation and Total Annihilation Core Contingency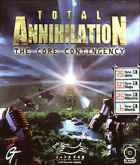 Forget looking for this game in the stores. It is already out of production and the original Total Annihilation is around 9 year old, its expansion, Core Contingency at 7 year old. But how can I ever forget this game? How can I forget its intensifying battles and memorable in-game music? How can I forget the Krogoth? How can I forget the time when I used to play this game? Never. It is too memorable. If you want to get this game now, I suggest that you head over to eBay or burn a copy from your friend.
I played it on: PC
10::: Farcry
No, I am not talking about the Xbox or Xbox 360 version. I am talking about the PC version here. Anyway, aren't they quite similar? When I first played Farcry, I was blown away by its graphics. The gorgeous environments look like paradise. That is one thing I like about the game. Then, you can have mutant powers later in the game. Cool! Farcry is truly a shooter that is better than the rest. Outstanding, but not as impressive as Call of Duty 2 or Halo.
I played it on: PC
Outside of top 10
11. Forza Motorsport (very retard A.I. spoils the game)
12. Halo 2 (excuse me, may I know what is the story driving at? The ending is quite sudden too)